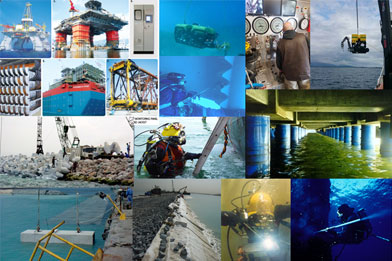 With the advent of the new MSCL division, we have proudly added a new dimension of sophisticated offshore inspection and engineering services along with experts with year of national and international experience in the field, all supported with state of the art equipment.

The new addition affords our Company the capability to address and provide to our customers a very wide range of underwater structural engineering, construction survey, repairs, installation of subsea risers, spool tie-in, as well as pipeline and cable supports and protection services and lot more, but not limited to the following:


Civil Construction Works
Underwater Block Placing for Break water / Jetty construction.
Seabed Leveling and Underwater Grouting work.
Underwater Geo Textile Installation, Control Blasting, Cutting and welding works.
Subsea Pipeline Support Works
Route survey for the pipeline. Damage assessment & Clamp / Connector Installation.
Installation of Cathodic protection on Pipelines.
Assist in Pipeline laying and Trenching
SBM & SPM Maintenance Works
Installation of SBM & SPM plus MGR / NDT and Class Survey of Buoys and Chains
SBM / SPM Subsea Hose & Chain inspections, survey and maintenance.
Subsea PLEM Change out.
Vessel Inspection
Vessel / Barge Inspection for Propeller/ Sea chest Cleaning.
Under water Cleaning, Video Recording, Welding and Patching and other related services
Equipment and Instrumentations
To implement the new scope we have enhanced our inventory of equipment to complement all activities. Listed below are some equipment but not limited to:


1. Survey and Diving Boat
2. Libra 6500R Diving Boat(SRP) 15 passengers
3. Rubber Diving Boat – FRP, Pro-420, Pro-550, Libra 4500
4. Air/Mixed Gas Recompression Chamber with Comm. Panel
5. LAS – Diver launching and Recovering System
6. High/ Low Pressure Diving Compressor
7. GPS Satellite Survey Station – Trimble
8. Total Station – Leica (Laser target)
9. Automatic Level with ACC & Leveling Machine
10. And more…..